Metal 3D printing is becoming one of the fastest growing areas in the 3D printing industry, although its current applications are mainly in the aerospace, medical, automotive, etc., but we are seeing more and more companies and The designer used it to create amazingly complex products. The maker alliance platform offers a variety of metal printing materials, including cobalt chrome molybdenum alloy, stainless steel, aluminum alloy, silver and so on.
Recently, the world's leading 3D printing equipment manufacturer company has just released a set of 3D printed high-grade stainless steel cutlery designed by the company's creative director, Finnish 3D artist Janne Kyttanen.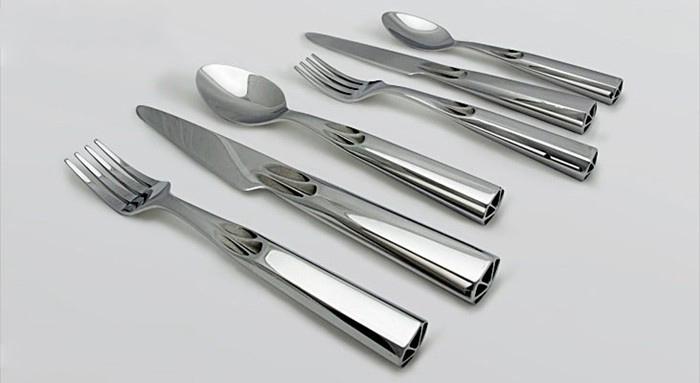 Known as Ice Breaker, this amazing tableware is made with the company's latest metal 3D printing technology, Direct Metal Printing (DMP). The Ice Breaker series is just the latest attempt by designers to apply the metal 3D printing technology originally used in the automotive and aerospace industries to the direct manufacturing of high-end consumer products.
The design of the Ice Breaker is inspired by the complex geometry of the ice that breaks up and the resulting symmetry. DMP technology is used to print out the entire set, and these shapes cannot be done using traditional metal manufacturing methods. DMP technology is similar to most metal 3D printing processes in that a thin layer of metal powder is applied to the printing platform, except that the high-precision fiber laser is not simply sintered metal powder (only one layer of molten metal particles). ), it melts a layer completely, making it completely fused together, so there is no need to use any adhesive.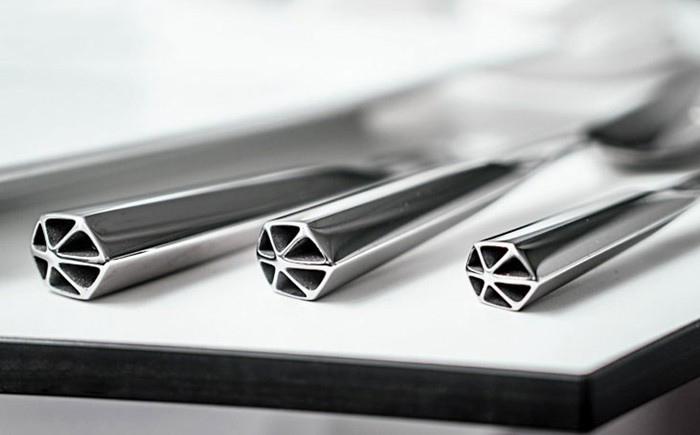 It can be seen from the above that the 3D printed metal object using DMP technology is completely dense, has a uniform microstructure, and its density is 99.98% of normal metal parts. In fact, objects printed by DMP technology and traditional cutting or casting are used. The metal parts produced by the method are basically the same. And because 3D printing does not use molds or metal machine tools, it can achieve a wide variety of shapes and configurations inside metal parts. In essence, the limitations faced by designers are only their imagination and the function of the design software.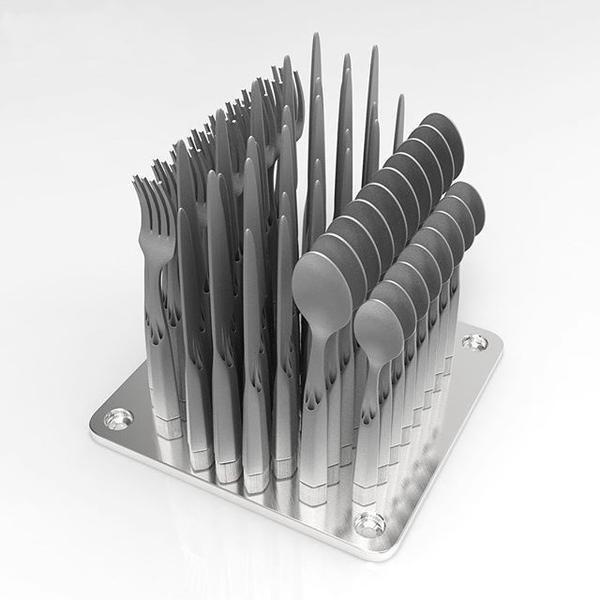 Complete set of 3D printed metal cutlery before polishing
Since DMP technology mainly uses metal powder as a raw material, the surface of the parts after 3D printing is rough, a bit like sandpaper. However, these parts need only be slightly polished to be as smooth as the surface of a conventionally manufactured metal part. Since the 3D printed Ice Breaker series itself is tableware, Kyttanen chose stainless steel as the printing material. In fact, DMP can also use aluminum and titanium, as well as other new materials for printing.
(Editor)
We are specialized in soft toy since 1993. We are a very strong OEM&ODM team. Annually, there are more than 250 new items for our customer to select.Till now, there are more than 8500SKU.
Our eWe have a very strong OEM&ODM designing team. Annually, we will design more than 200 new items for our customer to select. Customized design is welcomed.
Here we provide one stop service from design patterning, sampling, manufacture and quality control. to ensure Safe, Excellent QUALITY & BEAUTIFUL products
Our toys are followed strictly international standards such as EN71 &ASTM963. We have passed BSCI, Sedex certificate.
Soft Dice,Soft Toy Dice,Plush Soft Dice,Baby Soft Dice
Ningbo Dikai Imp&Exp Co., Ltd , https://www.longkaitoys.com